Welcome to Arcfab Industries
We specialize in the design, manufacture, and sale of Header trailers for all combine headers. Our trailers are key to hauling your combine header quickly and safely from anywhere to anywhere. If you need to take your machinery on the highway or down any country road, these header trailers are the way to go.
The ESB is our economy 2 wheel trailer, and comes in a 30 foot model.
It works great for smaller header, and is often used for storage, but has highway rated tires, and can haul your header between field and yard.
The rigid style is for rigid headers, and comes with 2 fully adjustable brackets for a nice fit to all rigid headers.
The Flex style has the same adjustable brackets, but has a Flex Bar added to keep your cutter bar supported.
The SB, our most popular trailer, is a single beam 4 wheeled header trailer, which is an economical trailer to transport your header from field to field or many miles down the road!
The dolly in the front takes the weight off your towing vehicle, making it possible to tow these with your combine, or even a quad! This dolly comes standard with and extendable hitch, to make hookup easy, as you don't need to back up precisely with your vehicle, but rather pull out the telescoping hitch, drop the pin through your receiver, and then just back up until the spring loaded pin locks it back in transport position!
These trailers come in either a rigid model, for hauling your straight head, or, with added flex bar, they give your flex header a perfect ride!
The 30ft model comes standard with 2 fully adjustable brackets, while the 36ft is standard with 4 brackets.
The DB is our double beam header trailer, which is the best choice for the larger headers on the market these days!
The front dolly on the DB models makes towing heavy headers easy, even behind the combine, making moving to the next field a one man operation!
The DB models come standard with tandem or single tor-flex 6000# axles, (depending on the length), as well as fully adjustable brackets.
Options include lights, brakes, fenders, as well as various brackets for special applications.
The CD is a convertor dolly, made to bolt over the front of your existing 2 wheel trailer, to turn it into a 4 wheel trailer, taking the weight off of your towing vehicle.
The HB is a dolly made to fit the Honey Bee headers, to again take the weight off of your towing vehicle, making towing a breeze.
Hose Reels for layflat hose.
Farm wagon running gear. These got wood decks with benches built on top for hauling people thru a game park.
Eathmoving scraper rebuild.
Metal workbenches. With or without wheels. 
Stainless air seeder parts.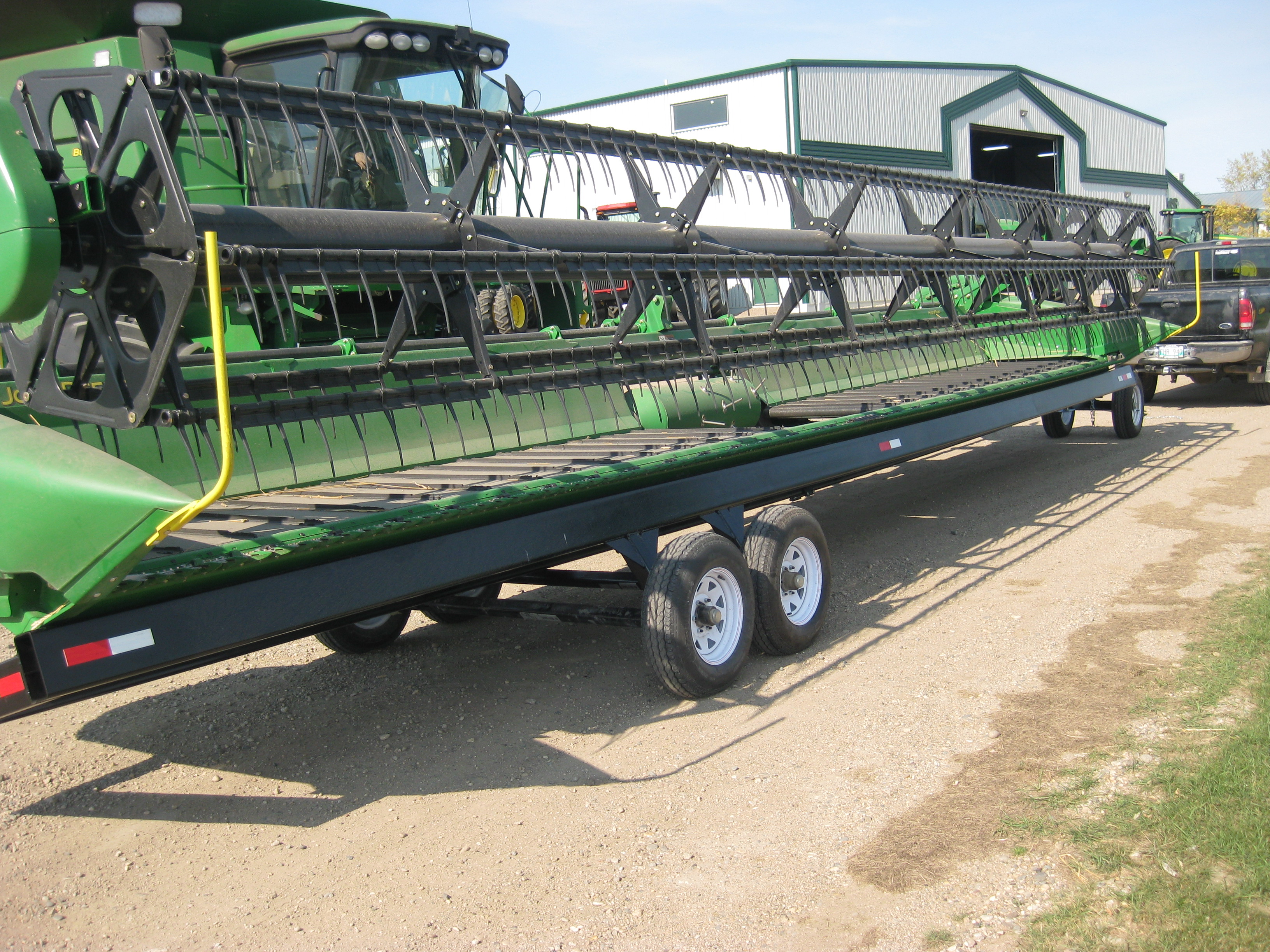 Some history
We are a family owned and operated Fabrication company. We sell our own brand of trailers which are locally manufactured and designed. If you have a custom job, we have the experience and expertise to get it done.
Our Values
We believe in building high quality equipment, while keeping our prices affordable. Our dealer relationships are very important to us.
Box 37 RR1
Ste. Anne, MB
R5H 1R1